Alas, another week has come to an end...Thank God. I subbed all week and I sure am tired, not to mention my patience is no longer existent. But hey, money is as money does.
This week did give me plenty of reading opportunities:
1. I finished
The Big Over Easy
by Jasper Fforde - just so damn funny!
2.
The Chronicles of Faerie: Hunter's Moon
by O.R. Melling - its listed in the YA section of the bookstore, but think J.K. Rowling a la
Harry Potter
- way cool, can't wait for the next one.
3.
Past Redemption
by Savannah Russe. This is the second book in the Darkwing Chronicles (think Laurell K. Hamilton meets
Buffy
meets
La Femme Nikita
&
Alias.
Daphne Urban is a 500 year old vamp who gets recruited by the CIA to be part of an anti-terrorism group - the books keep improving and there's definitely some imagination behind it all.
4. *Pick of the week*
Proven Guilty
by Jim Butcher.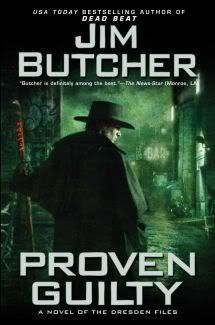 I've been waiting nearly a year for this book, especially when I got to meet Butcher back in the fall. This is the 8th book of the Dresden Files and in my opinion possibly the best so far. It's funny, well written, imaginative yet with realistically loveable and complicated characters. What I love about this series it that Harry in an a-typical hero figure, needless to say he's got issues; but underneathe it all he's a good man who wants to fight monsters and save the world. Butcher currently ranks as my favorite author and with good reason. He's got the knack for making his protagonists lives just complicated enough to stay interesting but not to be overbearing (can anyone say "lighten up, LKH?").
5.
Labyrinth
by Kate Moss - just started this one today and I'm about 30 pages in. It seems to be similar to
The Da Vinci Code
with its search for the grail - but where it differs is its parallel story lines of two women (Alice in 2005, Alais in 1200) as the heroines. Too soon to say anything about it for sure, but it looks hopeful.
TV Recaps:
1. "Bye, bye, bye" to Princess P on
American Idol
. So long, don't let the door hit ya on the way out.
2.
Alias
- wicked cool this week, two major character deaths, lots of plotting and I'm so glad the Rimbaldi story line is back on, he makes things
way
more interesting. I just love that Syndey's nemesis, Anna Espinosa, is now a Syndey clone. It seems appropriate that the series finale will have Syndey kicking her own ass(-:
3.
Lost
- 3 words for ya - OMG!!!! Might be one of the best episodes yet. Can't believe that ending and I'm
sooo
ready for next weeks ep.
4.
CSI
(Las Vegas) - Great ep last night guest starring Judd Nelson and Julie Benz (aka Darla from
Buffy
and
Angel).
Good story and I so didn't figure it out til the end so that's good, the show's been a little predictable as of late.
5.
Smallville
- I so agree with other blog about this one. If you have James Marsters at your beck and call, use him!
Fine
didn't appear until half way through the ep and as others point out, most of the time he looks like Jon Schneider, no problem there but if you say you're gonna give me "Spike" then give me "Spike!" Chloe has some great one-liners last night(-:
At the movies:
(pretty dry here, but I have
Domino
to watch)
1.
Kuch Kuch Hota Hai
- Ang, you're right, its fabulous. I laughed, I got a little misty-eyed....Kajol rulz!!!