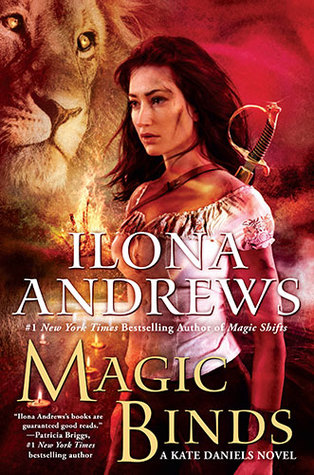 *Thank you to Netgalley and Ace for an ARC in exchange for a fair review*
Expected publication:
September 20, 2016
Kate Daniels is back with another highly entertaining adventure in
Magic Binds
. The dynamic husband/wife writing duo of Ilona Andrews stun with not only compelling characters, dialogue and stories but also with heart pounding action, humor and plenty of angst.
Kate and Curran are still adjusting to their new roles after leaving the Pack with Curran reorganizing The Guild and Kate keeping her father, Roland, at bay despite his encroachment on Atlanta, which Kate had to claim for her own. Tensions are high politically and personally as Roland manipulates those closest to Kate and pushes her boundaries by overstepping his place on many levels. Finally deciding to tie the knot, Kate learns from the Witch Oracle that her impending marriage will cause Atlanta to burn and the death of the man she loves. And the only person she can turn to for help is long dead. Fortunately for Kate, death isn't the obstacle it could be. She'll have to learn to master her power and call upon other alliances if she stands a chance at changing her future.
I adored this book as I do all in the series! It was entertaining, funny and thoughtful. I love the continued progression of characterization as it pertains to the growing story arc. Kate Daniels and the supporting cast remain some of my absolute favorites in any genre. This writing duo knows just how to craft a truly memorable narrative.
Honestly, I can't think of a single fault except that it is far too long until the next book is published. I can't wait to see what is in store for Kate and Curran as well as the implications the cliffhanger has for this world. While I loved getting to read
Magic Binds
ahead of time, I did miss the added bonus of listening to this on audio. I definitely will seek it out upon its release.
Final rating:
5 out of 5 stars
Follow the author on Twitter: @ilona_andrews
#magicbinds #ilonaandrews #katedaniels #magic #romance #humor #action #netgalley #supernatural