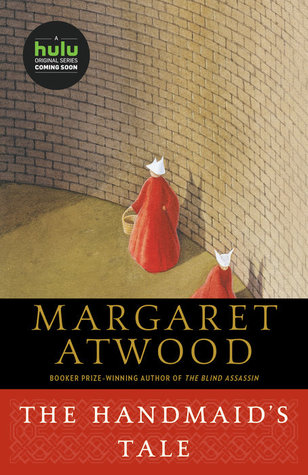 Offred is a Handmaid in the Republic of Gilead. She may leave the home of the Commander and his wife once a day to walk to food markets whose signs are now pictures instead of words because women are no longer allowed to read. She must lie on her back once a month and pray that the Commander makes her pregnant, because in an age of declining births, Offred and the other Handmaids are valued only if their ovaries are viable. Offred can remember the years before, when she lived and made love with her husband, Luke; when she played with and protected her daughter; when she had a job, money of her own, and access to knowledge. But all of that is gone now.
One that had been on my 'to-read' list for a long time and our June 2017 book club selection. I definitely found this thought provoking and now I need to watch the series which I've been avoiding. However, there was a certain level of disappointment.The audiobook narrated by Claire Danes was stellar. The premise is both fascinating and terrifying since it has that definite feel of possibility. I'm glad I read it but it didn't change my life.
Final rating:
4 out of 5 stars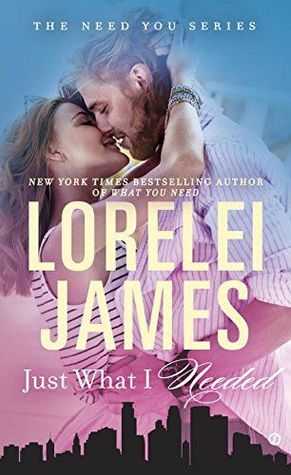 Trinity Carlson might be having the worst day ever. And that was before she started drinking in a dive bar, right across from her ex and his new girlfriend. So when she finally decides enough is enough, she grabs hold of a hot, blond stranger and gives him the kiss of his life.
Walker Lund never expected that a chance at love would hit him right on the mouth. Since the moment his brother decided to settle down, Walker has been dodging his family's hopes that he'll do the same. He's never been interested in following in anyone's footsteps. But when he discovers his sexy assailant has given him a fake name and number he suddenly finds himself in the mood for a little hot pursuit.
Another engaging and stellar romance from Lorelei James. Super fun and sexy with characters that have depth. Trinity and Walker both have some issues but they balance each other out well.
Final rating:
4 out of 5 stars
PR agent Annika Lund can spin any disaster into a win. But revamping the reputation of a notorious Swedish hockey player will take every trick in her arsenal, especially when his agent insists that convincing everyone he's no longer a playboy is top priority. And that it requires a sham relationship—with Annika playing the part of loving girlfriend.
On fire in the rink and in the bedroom, Axl Hammerquist couldn't care less about being anyone's golden boy. So when his agent forces him to play nice with a new publicist, he takes satisfaction in being as much of a pain as possible. But the more time he spends getting to know Annika, the more Axl starts to think that being Mr. Nice Guy might be worth it if it gets him the girl.
Who doesn't love a good hockey romance? Especially when it brings in elements of the faking a romance and building tension that blossoms into full out attraction and forever love. Great banter between Annika and Axl. James knows what she is doing with building tension and memorable interaction.
I enjoyed this third installment to the series and can't wait for the next book!
Final rating: 4 out of 5 stars


Xcor, leader of the Band of Bastards, convicted of treason against the Blind King, is facing a brutal interrogation and torturous death at the hands of the Black Dagger Brotherhood. Yet after a life marked by cruelty and evil deeds, he accepts his soldier's fate, his sole regret the loss of a sacred female who was never his: the Chosen Layla.

Layla alone knows the truth that will save Xcor's life. But revealing his sacrifice and his hidden heritage will expose them both and destroy everything Layla holds dear—even her role of mother to her precious young. Torn between love and loyalty, she must summon the courage to stand up against the only family she has for the only man she will ever love. Yet even if Xcor is somehow granted a reprieve, he and Layla would have to confront a graver challenge: bridging the chasm that divides their worlds without paving the way for a future of even greater war, desolation, and death.

As a dangerous old enemy returns to Caldwell, and the identity of a new deity is revealed, nothing is certain or safe in the world of the Black Dagger Brotherhood, not even true love . . . or destinies that have long seemed set in stone.
Finally...it felt like readers have been waiting for Xcor and Layla's book for eons. It wasn't perfect and there was A LOT going on but I still enjoyed this book like I do all the BDB books. There are a lot of interesting twists seeming to peek over the horizon so I'm curious for the next few in the series.
I still have some hang ups regarding
Qhuinn's behavior and the neat little bow wrapped around a lot of what happens in the book. I'll get over it but it will take some time.
FYI, if you haven't read Ward's Fallen Angels series yet, you better since those events and characters are likely to make their way to meet the BDB soon.
Final rating: 4 out of 5 stars
Blade Bound
is the final book in Neill's
Chicagoland Vampires
series! Fans finally get Merit and Ethan's wedding but it would be out of character for things to go smoothly.
When the House is infiltrated and Merit is attacked by a vampire seemingly under the sway of dark magic, Merit and Ethan realize the danger is closer than they could have ever imagined. As a malign sorcery spreads throughout the city, Merit must go to war against supernatural powers beyond her comprehension.
Our favorite vamps have to work together to not only save the city but each other.
Remember that prophecy!?! Something important happens, leading into a new spin off series. Readers won't be disappointed, so definitely check out the conclusion to these books.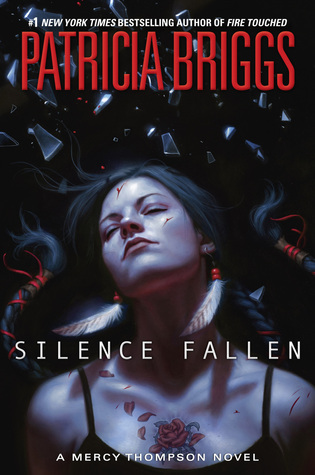 Final rating:
4 out of 5 stars

Attacked and abducted in her home territory, Mercy finds herself in the clutches of the most powerful vampire in the world, taken as a weapon to use against alpha werewolf Adam and the ruler of the Tri-Cities vampires. In coyote form, Mercy escapes only to find herself without money, without clothing, and alone in the heart of Europe...

Unable to contact Adam and the rest of the pack, Mercy has allies to find and enemies to fight, and she needs to figure out which is which. Ancient powers stir, and Mercy must be her agile best to avoid causing a war between vampires and werewolves, and between werewolves and werewolves.
Not my favorite in the Mercy series but still entertaining. Rarely is Mercy a damsel in distress and she proves this again in Silence Fallen. She can take care of herself in a crisis but usually needs a little assistance from allies.
What I didn't care for was the overlap in narrative and change in POV writing, shifting from Mercy to Adam. It threw off the storytelling and was too much of a departure from previous books. It gave an odd feel to the audiobook as well. Lorelei King's narrative was amazing as usual.
Final rating: 3.75 out of 5
This was my book with a beach on the cover challenge for summer reading.
For fifteen years, four "girls of August" would gather together to spend a week at the beach, until tragedy interrupts their ritual. Now they reunite for a startling week of discoveries.
The ritual began when they were in their twenties and their husbands were in medical school, and became a mainstay of every summer thereafter. Their only criteria was oceanfront and isolation, their only desire to strengthen their far-flung friendships. They called themselves the Girls of August. But when one of the Girls dies tragically, the group slowly drifts apart and their vacations together are brought to a halt.
Years later, a new marriage reunites them and they decide to come together once again on a remote barrier island off the South Carolina coast. There, far from civilization, the women uncover secrets that will change them in ways they never expected.
Not my typically read but it held my interest, even if it was preditable--pregnancy, divorce, cancer, and some pretty vicious hazing of the new girl. I kept thinking it would make a great Lifetime movie. I don't think I'll rush out and read another Siddons books right away.
Final rating:
3 out of 5 stars
Ten years ago, Flynn Carson was the only living Librarian. When the ancient criminal organization known as the Forty steals the oldest known copy of The Arabian Nights by Scheherazade, Flynn is called in to investigate. Fearing that the Forty is after Aladdin's fabled Lamp, Flynn must race to find it before the Lamp's powerful and malevolent djinn is unleashed upon the world.
Today, a new team of inexperienced Librarians, along with Eve Baird, their tough-as-nails Guardian, is investigating an uncanny mystery in Las Vegas when the quest for the Lamp begins anew . . . and the fate of the world hangs in the balance.
As the first novelization of the television series, this was a fun, adventurous story featuring all the aspects fan loves about The Librarians. What was lacking for me was a bit of the character pizzazz that the actors bring to the show. I missed seeing these portrayals acted out on the screen in front of me.
All in all, still fun.
Final rating:
3 out of 5 stars
A novella starring Silvio Sanchez, the vampire assistant of Gin Blanco, as he goes on a holiday date that turns out to be more deadly than romantic. All's fair in love and war, though. Just as Silvio is starting to enjoy himself, he realizes he's being watched. His nice guy date doesn't sense the danger, and Silvio wants to keep it that way (and, well, keep the guy alive) so Silvio ends the date early—only to be abducted by some villainous giants.
The story itself had some nice twists. It was interesting to get to know Silvio a bit more but this wasn't my favorite story in the series. Maybe it is still because Silvio is such a new character, but for me, he lacks personality in the way that Gin, Finn and the other staple character have established over the course of the other books.
Did anyone notice how much the cover model looks like Sam from HBO's True Blood?
Final rating: 3 out of 5 stars
When secret organizations are forced to merge after years of enmity and bloodshed, only one person has the fearsome powers—and the bureaucratic finesse—to get the job done. Facing her greatest challenge yet, Rook Myfanwy Thomas must broker a deal between two bitter adversaries:
The Checquy—the centuries-old covert British organization that protects society from supernatural
threats, and…
The Grafters—a centuries-old supernatural threat.
But as bizarre attacks sweep London, threatening to sabotage negotiations, old hatreds flare. Surrounded by spies, only the Rook and two women, who absolutely hate each other, can seek out the culprits before they trigger a devastating otherworldly war.
Stiletto
is the quirky yet fascinatingly hilarious sequel to
The Rook
. O'Malley's genius in creative writing and blending the sci-fi/fatasy genre puts him in an elite class right up there with Terry Pratchet and Jasper Fforde. I enjoyed the rather bizarre story and character. However, I did miss the duck (just sayin').
Final rating:
4 out of 5 stars
Natalie Banks and Brady Coldwell are total strangers when they discover they are each other's new roommates, a bit of a masterful plan on behalf of some of their friends. They decide to make the best of it. Soon sparks fly but will lust and romance stand a chance against the other hurdles in their way?
Roommates
is part of a series. It was a cute read with some good steamy romance elements. I'm always a sucker for a good roommates turned more story. Natalie is a bit irksome as a female protagonist. Readers who enjoy romance and a good sports themed hockey one at that will like this book.
The construction and flow needed some work to improve the narrative but I enjoyed it for what it was.
Final rating:
3 out of 5 stars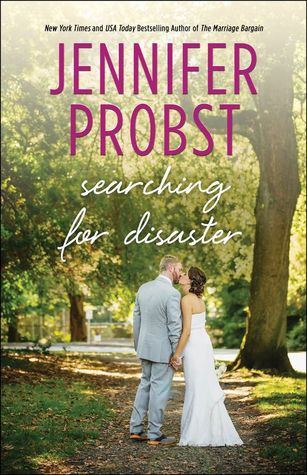 When Isabella MacKenzie tries to move on from her disastrous past, Officer William Devine is determined to show her that love is the only way to heal. This sexy enovella, the final installment in Jennifer Probst's heartwarming
Searching For
series, follows the high-powered women of the popular matchmaking agency Kinnections, located in the small, picturesque town of Verily, NY.
My attempt at catching up on the installments to the series I might have missed. This was a quick, engaging novella. Isabella is a recovering addict determined to keep her life on track. Years earlier, her one night stand with Will has always haunted her with the 'what ifs'.
They finally get their chance at happiness if she won't let her fears get the best of their impending happily ever after.
Final rating: 4 out of 5 stars

Hamilton has been an important activity center in Butler County since its founding in 1791, as its proximity to the Great Miami River made it an ideal county seat and agricultural hub. Beginning in 1845, the Hamilton Hydraulic Company diverted the river's flow through town and developed a system that supplied cheap waterpower to area mills.
By 1900, Hamilton was "the greatest manufacturing city of its size in the world," and by the 1940s it was home to several of the world's largest industries. Champion Paper milled coated paper, Niles Tool Works manufactured machine tools, Hooven-Owens-Rentschler built Corliss engines, Estate Stove made stoves, and Mosler and Herring-Hall-Marvin Safe Companies earned Hamilton its reputation as the "Safe Capital of the World." More than 150 factories and shops developed diverse product lists in the early 1900s, but only three of these businesses still operate in Hamilton today (which probably isn't even an accurate account as of 2017).
This is my read a book about your hometown for summer reading. Very interesting and fantastic historical pictures!
Final rating: 4 out of 5 stars
For maverick LAPD homicide detective Harry Bosch, the body in the drainpipe at Mulholland Dam is more than another anonymous statistic. This one is personal...because the murdered man was a fellow Vietnam "tunnel rat" who had fought side by side with him in a hellish underground war. Now Bosch is about to relive the horror of Nam. From a dangerous maze of blind alleys to a daring criminal heist beneath the city, his survival instincts will once again be tested to their limit. Pitted against enemies inside his own department and forced to make the agonizing choice between justice and vengeance, Bosch goes on the hunt for a killer whose true face will shock him.
My mystery/thriller for the summer. I'm a fan of the Amazon show
Bosch
and figured I needed to at least read the first book. It was a good procedural thriller and I can see the series appeal. Bosch is interesting but at this point I prefer the television series and would need to see Bosch develop as a character more throughout the books.
Final rating:
3 out of 5 stars
In the 1920s, the richest people per capita in the world were members of the Osage Indian Nation in Oklahoma. After oil was discovered beneath their land, the Osage rode in chauffeured automobiles, built mansions, and sent their children to study in Europe.
Then, one by one, they began to be killed off. One Osage woman, Mollie Burkhart, watched as her family was murdered. Her older sister was shot. Her mother was then slowly poisoned. And it was just the beginning, as more Osage began to die under mysterious circumstances.
As the death toll surpassed more than twenty-four Osage, the newly created F.B.I. took up the case, in what became one of the organization's first major homicide investigations. But the bureau was then notoriously corrupt and initially bungled the case. Eventually the young director, J. Edgar Hoover, turned to a former Texas Ranger named Tom White to try unravel the mystery. White put together an undercover team, including one of the only Native American agents in the bureau. They infiltrated the region, struggling to adopt the latest modern techniques of detection. Together with the Osage they began to expose one of the most sinister conspiracies in American history.
What I like about David Grann's nonfiction writing is a the narrative quality which makes it easy to read. This is an intriguing if albeit disturbing account of horrific crimes fueled by greed and racism. It was interesting to read about the development of the FBI to help solve these crimes.
Final rating: 4 out of 5 stars