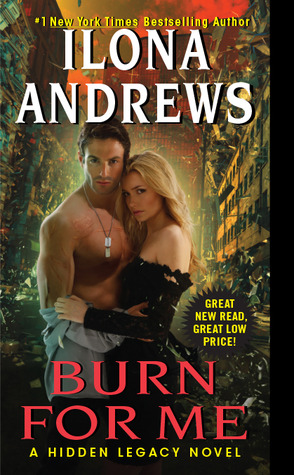 Burn For Me
is the first in an all new urban fantasy series (
Hidden Legacy)
by bestselling author Ilona Andrews. The novel blends itself well as a hybrid between UF and paranormal romance.
Female protagonist, Nevada Baylor is a twenty something PI, who is fiercely protective of her large family. Her talent as a 'Truth Seeker' - brandishing a kind of magic where she can detect and compel others to tell the truth, proves useful in her line of work. Since the untimely death of her father, Nevada has worked tirelessly to maintain the family business and reputation despite the looming mortgage to one of Houston's wealthiest businesses. Unable to break that contract, she is forced to find and deliver one of the city's most dangerous Primes -- a high level magic user -- back to his family.
If that wasn't already an impossible task, Nevada is kidnapped by the equally deadly and devastatingly sexy Connor "Mad" Rogan, an ex-military billionaire, who is a formidable Prime as well. They decide that they'll work together on the case for mutual gain and to more importantly stay alive. However, as the danger heats up, it becomes increasingly difficult for both Nevada and Rogan to deny their electric attraction. Rogan has never met such a strong willed, sassy woman able to resist he alpha persona; whereas, Nevada knows full well to steer clear less she give in to temptation only to have her heart broken.
What I loved about the book aside from the overall UF world-building, story, and action packed pacing was the character development. I've long been a fan of this husband/wife writing team who have brought readers not only the
Kate Daniels
books but also
The Edge
books. They have a truly unique and magical way of balancing romance and action while providing substance. These rank right up there with my love of
The Dresden Files
by Jim Butcher,
The Hollows
by Kim Harrison and
The Women of the Otherworld
by Kelley Armstrong.
The novel has a satisfying conclusion to the primary plot; however, readers learn that more is at stake for Nevada and the world she lives in. I love the slow burn of the growing relationship between her and Rogan. It is reminiscent of the relationship development between Kate and Curran in the author's other books.
Final thoughts:
This was a fantastic read and I can't recommend reading it for its notable writing prowess or listening to the audiobook enough. It's fast paced with great action, well-developed characters, humor, memorable snark and a whole lotta sexy angst. I cannot wait for the next book,
White Hot
, to be released on October 27, 2015.
5 out of 5 stars - I'd give it higher!
Check out the author on Twitter: @ilona_andrews
#burnforme #hiddenlegacy #ilona_andrews #urbanfantasy #paranormalromance #sexy #magic #whitehot #thehollows #kimharrison #dresden #dresdenfiles #jimbutcher #longshotauthor #kelleyarmstrong #otherworld