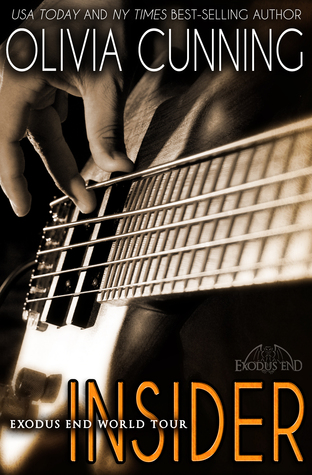 A big thanks to Netgalley for the ARC of this book in exchange for a fair review.
Insider
is the first book in Cunning's highly anticipated new series featuring rock band, Exodus End. The author continues to write in the genre that she does best, contemporary erotic romance, or what I've come to deem "hot rock".
The story picks up where the
Sinners on Tour
books left off but now predominately features the dangerous and devastatingly handsome rockers of Exodus End. Readers are teased as to the intricate character backgrounds of books to come; however, this novel follows bassist Logan and his whirlwind, sexually charged relationship with Toni.
Toni has sacrificed much of her life and chance at independence to assist her mother in caring for her now 9 year old little sister with Downs Syndrome following the tragic death of her father. Touring with Exodus End to write an edgy and technology based interactive biography is Toni's first big break while working for her family's publishing company. Needless to say, she is terrified that she'll fail and that her awkward, bookish nature won't lend to the band's trust, especially since they've been burned by the media before.
The attraction is instant. Toni cannot believe that daredevil bassist Logan wants her. He pushes her to claim her independence, her wild side, and take what she wants out of life. In turn, Logan is surprised how quickly Toni finds a place within his life and changes his outlook for what he wants for his future. There are plenty of twists and turns that make this a fun, sexy, and intriguing read.
Fans of Cunning's
Sinners on Tour
series won't be disappointed by cameos of our favorite couples. Furthermore, those looking for romance with just the right amount of screaming hotness are in luck. I can't wait for me in this series!
Final rating: 4 out of 5 stars.
Follow the author on Twitter: @oliviacunning
#netgalley #review #rock #erotica #romance #musicians #hotrock