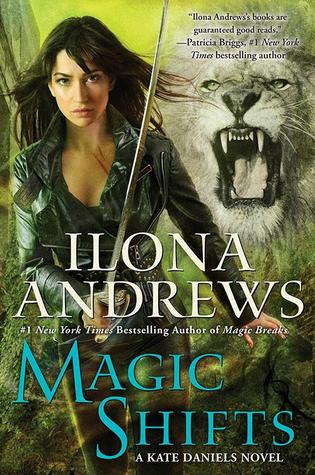 Magic Shifts is everything that Kate Daniels fans love and more. It was so phenomenal that even a week later I'm still doing the book Snoopy dance of amazingness!!! This is very much a transition book. Kate and Curran are still dealing with the aftermath of Magic Breaks and the impact these decisions have not only on their relationship, family, friends, and the city. Roland is still a very real threat; however, readers are in for a hilarious treat with the awkwardly tense new relationship with Kate and her father. None of it will end well but the road to the end will be an entertaining ride.
"I had come here intending to declare a possible war and instead ended up planning a dinner date with my father at Applebee's."
The husband wife writing due making up pen name--Ilona Andrews--never disappoint. Kate is back with all of her bad-ass snark. Having claimed Atlanta as her own, she does whatever necessary--often to the detriment of her own well-being--to protect the city and its people. This causes a smidgen of tension between Kate and Curran, but ultimately he understands her and supports her no matter what. Fans will yet again swoon at their relationship, especially with this quote:
"I will always be there. I will walk across the whole planet if I have to."

I closed my eyes and whispered, "I'll meet you halfway."
Strange creatures galore fill out the rest of this action paced adventure. Evil djinn, massive insects and giants keep Kate and crew on their toes while also sneaking in an edge and ponderings for later books.
"Do we have a flamethrower?" Curran asked.

"No."

"We should get a flamethrower."
I laughed, I cried, and now I'm pining for the next books.
If you haven't read the series yet, what are you waiting for? These are an urban fantasy must! I cannot recommend them enough and if you are an audiobook fan, the narration by Renee Raudman is amazing and engaging.
Final rating: 5 out of 5 stars
Follow the author on Twitter: ilona@andrews
Follow the narrator on Twitter; @reneeraudman
#katedaniels #magicshifts #urbanfantasy #romance #review #audiobook