Disclaimer: I received an ARC from Netgalley in exchange for a review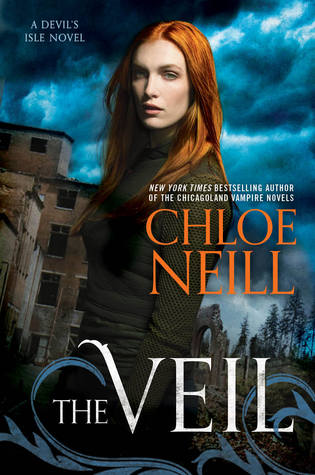 The Veil is the first of a new series (Devil's Isle) by bestselling author of the Chicagoland Vampire novels, Chloe Neill. This unique urban fantasy story is a face paced, thrilling ride for fans of the genre, Neill, and as a comparable read-a-like to Ilona Andrews' Kate Daniels or The Edge series.
Seven years ago, the Veil between the human world and Beyond fell, leaving New Orleans as ground zero for a brutal supernatural war. With the Veil once again in place, all supernaturals and "Sensitives" to magic are contained in the Devil's Isle. Twenty something Claire Connolly is a hardworking human with a dangerous secret. Eight months ago, she became a Sensitive when she inadvertently developed telekinetic abilities. Claire lives in fear that Containment will learn her secret and ship her off to the District, separating her from her beloved shop and friends.
After the War Night festivities, Claire uses her magic to save a young girl from a wraith (humans sensitive to magic that go ferally insane) which puts her in the path of sexy bounty hunter Liam Quinn. I won't spoil the fun too much for other readers. I'll just say that the following story is packed full of delicious sexual tension and adventure. Liam and Claire form an alliance--doing their best to fight a growing attraction, teach Claire to control her abilities, and to figure out who wants to dissolve the Veil.
As a reader, I'm a huge fan of Neill's Chicagoland books. I loved The Veil as the first part of a new series. Great world building and memorable characters. I can't wait to see what develops for subsequent books, I have a strong feeling that Liam and Claire might rival Ethan and Merit for my literary affections!
Final rating: 4 out of 5 stars
Follow the author on Twitter; @chloeneill
#devilsisle #chloeneill #review #netgalley #urbanfantasy #paranormal