Disclaimer: I received an ARC from Netgalley in exchange for a review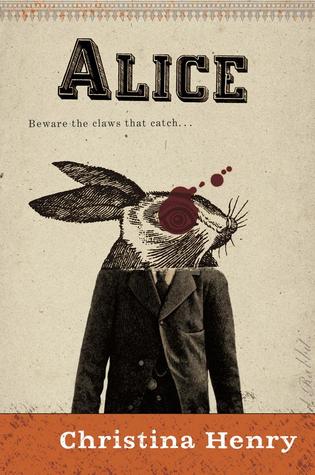 Christina Henry's
Alice
is a decidedly dark retelling of Lewis Carol's classic
Alice's Adventures in Wonderland
and
Through the Looking Glass
. Within dilapidated buildings and amongst desperate peoples, there is an asylum in the Old City where the walls echo with the screams of those tortured inside. Alice has been locked away for some ten years, following her reappearance after a prolonged abduction. All she remembers is a tea party, long ears and blood. However, her parents dismissed ramblings and had her committed.
The asylum in and of itself is a place filled with horrors. Nonetheless, Alice finds solace when she discovers Hatcher, a fellow patient with an equally troubling past. Troubles escalate when a lethal fire brings their imprisonment to an end; however, it unleashes the Jabberwocky and sets other events in motion. Alice, with Hatcher at her side, must embark on a series of dark and twisted adventures in hopes of defeating the Jabberwocky, and discovering the truth regarding her new-found abilities and her missing memories at the evil hand of the Rabbit.
I am a huge fan of twisted fairy tales. Henry's re-envisioning of this classic is uniquely dark and twisted and as such plays homage to the original tale. The sinister natures of many of our well beloved characters had me on the edge of my seat. This is certainly a tale for adults with descriptive physical violence as well as sexual assault.
While at present this appears to be a standalone novel, there is significant potential for a continuation of the story. I enjoyed this and would read additional titles in the series.
Final rating: 4 out of 5 stars
Follow the author on Twitter: @C_Henry_Author
#review #netgalley #alice #aliceinwonderland #fiction #christinahenry #twistedfairytales