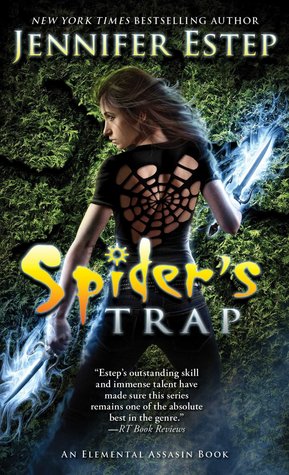 Having eliminated another foe, Gin aka The Spider is now the boss of Ashland's extensive criminal underground. All she wants is a boring day spent cooking up delicious food or settling various desputes. However, this is Ashland and, for Gin, nothing is ever simple. A routine meeting ends with a BOOM! and an assassination attempt. Gin quickly realizes that this may literally be a blast from her past but whether she's the true target remains a mystery.
Fans of the
Elemental Assassin
series will be satisfied that Gin and crew are once again on to case to take out the Big Bad with their own unique sense of justice. For me, this wasn't one of my favorites of the series but I still enjoyed it. I'm always surprised at how well Gin handles customer service at the restaurant and that more customer's don't get stabbed. (0:
The story was engaging but it felt as if this book was a mere staging area for the next major threat in
Bitter Bite.
This new villain has the potential to be very intriguing not only for Gin but Finn and might finally show readers more depth to his character.
Final rating: 3.5 out of 5 stars
#spiderstrap #elementalassassin #jenniferestep #UF