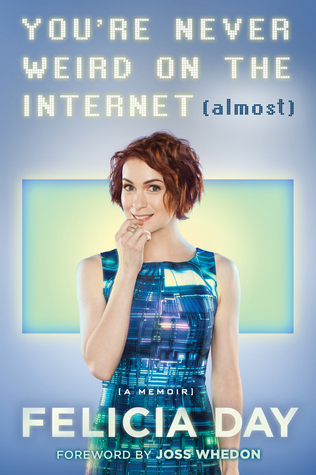 You're Never Weird on the Internet (almost)
is a humorous and poignant memoir by actress Felicia Day detailing her life, career and professional prowess turning a wee little web show (
The Guild
) into a crazy popular, global phenomina.
This is a charming read! I laughed and also felt Day's anxiety over life in Hollywood and the pressure she put upon herself to be successful but also not to lose her sense of self. I love her voice and honesty. There is a sincerity to the writing that I admire and despite her humorous musings, there is depth regarding her unconventional upbringing and struggles with depression.
Readers will enjoy it no matter what but if you have the chance to listen to the audio narrated by Day, you won't be disappointed!
Final rating: 5 out of 5 stars
Follow the author on Twitter: @feliciaday
#memoir #youreneverweirdontheinternet #theguild #humor #audiobook #whatimreading