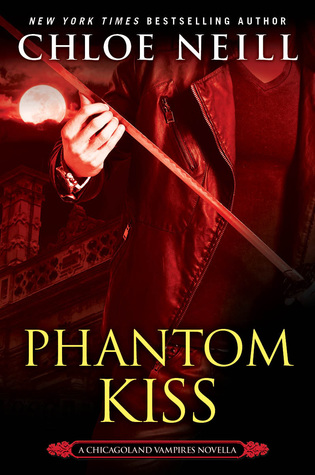 *Thanks to Netgalley for an ARC in exchange for a fair review*
Phantom Kiss
is a novella serving as 12.5 in the
Chicagoland Vampires
series. Merit and Ethan are just two months from their wedding. After attending a joint wedding showing, the couple is once again sidetracked by supernatural duty to help protect Chicago from all manner of paranormal beasties. When they get a call detailing that someone is disturbing graves and stealing skulls, they are on high alert that a past foe, a powerful sorceress, might be back in town.
When a dangerous spirit seems to have followed them home to Cadogan House, Merit and Ethan realize that vanquishing this evil spectre might be a challenge.
This is a quick, exciting read with just enough supernatural flair! I enjoyed the banter and visits from some of the series' favorite characters. Neill makes it easy for fans to fall right back in with characters and the tone of familiarity between not only Merit and Ethan but the rest of the gang. My only request was that the story be longer so as to build up the sense of intrigue but overall it was engaging and well written.
Final rating:
4 out of 5 stars
Follow the author on Twitter: @chloeneill
#PhantomKiss #ChicagolandVampires #novella #MeritAndEthan #mystery #ghosts #romance