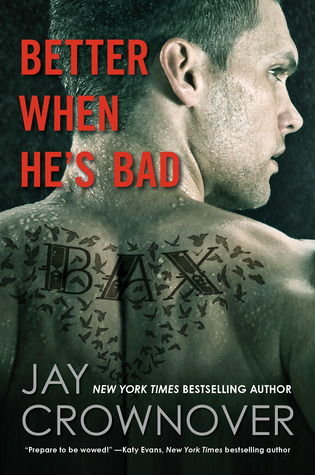 Welcome to the Point--a dark, dangerous and seedy fictional city at the heart of this compelling, mysterious and sexy series from Jay Crownover.
Better When He's Bad
introduces audiences to the Point and ultimate bad boy, Shane Baxter. Bax is not only a bad boy, but a boy who is just plain bad. With a history as a thug, criminal and brawler, he is fresh out of a 5 year prison sentence and looking for answers, namely from his former best friend--Race Hartman--as to what really went down the night he was busted. Bax doesn't care who he has to take on to get answers but with Race incognito, he stumbles upon an unlikely key player, Race's half sister, Dovie Pryce.
Dovie is no stranger to the harsh life of the Point or the difficult decisions that come with survival. Worried about Race, she's been told to trust Bax despite his terrifying demeanor. Dovie is everything he isn't --compassionate, innocent and good down to her core. When things in the Point go from bad to worse, Bax is the only one who can keep Dovie safe. She quickly discovers that some boys are just better when they're bad.
Bax is one of those character who is initially hard to like. He isn't a nice person. True, he's lived a tough life and made decisions in order to survive, but underneath he isn't a compassionate, charming hero. Bax is bad and isn't likely to change his ways but when it comes to Dovie he finds a soulmate with the ability to keep him human.
I liked the overall plot, characters and development of this unlikely relationship. It isn't perfect but it is raw, passionate and realistic. Bax and Dovie are my favorite, complicated couple of the series. Having read this twice, I think this is also my favorite book of the series too.
Final rating: 4.5 out of 5 stars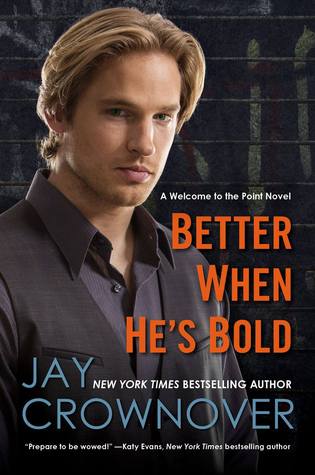 In this second book in the
Welcome to the Point
series, Race Hartman had decided to pick up the pieces and make his move to become the new player in the Point. Race is young, smart, bold and wickedly sexy. His desire to run the city means that he can at least control the badness and minimize the devastation.
Brysen Carter is a beautiful college co-ed and Dovie's best friend. Her life is in shambles since her mother's depression, tragic accident and workaholic father's withdrawal has forced her to move back home to care for her teenage sister. Try as she might to resist Race's charms, when she starts receiving threatening texts and is nearly run down in a parking lot, Brysen turns to Race for help and protection.
Their chemistry is electric and there is no denying that the connection is there. What Brysen has to decide is if she's cut out for living within Race's dark lifestyle. Her resolve is tested, especially when tensions within the Point rise and Brysen is surprised to learn that her own family has some dangerous ties to the Point.
Better When He's Bold
picks up right where the first book left off. I like the juxtaposition between these two characters. Both know what it is like to grow up on the Hill, but Brysen's perspective of the Point is far different from Race's. I liked their banter and growing relationship. There's some pretty good twists to the plot, appearances by beloved characters, and plenty of sexytime.
Final rating: 4 out of 5 stars
Better When He's Brave
is the final installment to this first part of the series. Titus King is a dedicated cop, committed to uphold the law and make the Point a little bit safer--pretty much the complete opposite of half brother, Shane Baxter. All of the city is on high alert with the mysterious new player in town hellbent to exact vengeance over big bad Novack's demise in book 1.
Reeve Black doesn't have too many fans in town. Following her previous actions which led to Dovie's kidnapping and injuries, Reeve has been whisked away to protective custody pending the trial of Novack's associates. When she realizes she has key information to bring down the threat trying to destroy the Point, Reeve arrives back on the scene to help and repent her sins.
Their attraction has been undeniable since first sight. Titus hopes to use Reeve as bait to lure the big bad out of hiding but things while things heat up in his personal life, the danger outside might be too much for them to handle.
This book brings the story arc to an end but also hints at future books centering around other possible couples. What I found interesting with this book is that Reeve is the bad girl seeking redemption. She's the one willing to do some pretty awful things and sacrifice herself for those she cares about. She's made some tough decisions with regrettable outcomes but is working to atone. As with most of Crownover's characters, Reeve and Titus balance each other well. I was certainly surprised by some plot developments and couldn't stop reading! All of the other fan favorite characters are back and will keep readers asking for more :)
Final rating: 4 out of 5 stars
Follow the author on Twitter: @JayCrownover
#WelcomeToThePoint #romance #erotic #JayCrownover #thriller #badboys #audiobook