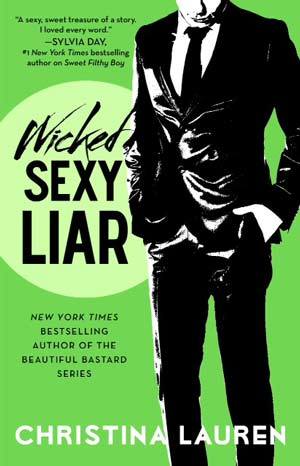 Wicked Sexy Liar
is the fourth in the
Wild Seasons
series by the duo writing as Christina Lauren.
London Hughes is a new college graduate unsure with what she wants from life. She's content to surf, do a bit of graphic design and bartend before jumping headfirst into adulthood. Burned by an unfaithful ex, London isn't ready for any sort of relationship but often feels like the third wheel to friends Mia, Harlow and Lola whose wild night in Vegas led to meaningful hot guy hookups and true love.
Enter sexy and charismatic Luke Sutter. Their chemistry is electric and what is a super hot one night stand could be more until London learns Luke is her friend Mia's ex. She struggles to honor the "Girl Code" but when even Mia and sharp tongued Harlow give her the all clear, London can't help but fall hard for Luke. However, her feelings aren't without trepidation given Luke's reputation as a player. Luke's breakup with Mia wasn't ideal and he's been adrift in meaningless hookups for far too long. Once he realizes that London is the one to make him change his ways, Luke steps up his pursuit to prove to her that they are meant to be.
Wicked Sexy Liar
is everything fans have come to expect from the authors. Super sexy but with good character development and an engaging plot. This is a fitting conclusion to the series but I will note that London was perhaps my least favorite female protagonist of the four. I can't quite put my finger on it as to why I felt this way but I just didn't engage with her as much as let's say Lola.
Final rating: 4 out of 5 stars
Follow the author on Twitter: @ChristinaLauren
#WildSeasons #WickedSexyLiar #erotic #romance #audiobook #books