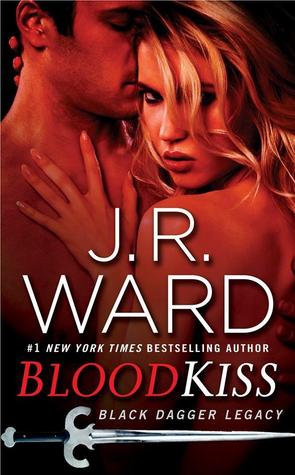 Blood Kiss
is the first in a spin-off series of Ward's
Black Dagger Brotherhood
. Plagued by the continuing war between the Omega and the Lessening Society, the BDB have opened training to vampire aristocracy and civilians. Enter Paradise, blooded daughter to the king's First Advisor. She is ready to break free from the restraints of being an aristocratic female and is determined to succeed in order to learn to defend herself, think for herself and be herself.
While a solid plan, nothing is as simple as it seems. School is highly challenging and Paradise did not foresee falling head over heels in love with fellow recruit, Craeg. As a civilian, Craeg has his own reasons to despise the glymera; however, he can't resist the pull toward Paradise despite their differing backgrounds.
Blood Kiss
follows a similar pattern and is mostly couple-centric for Paradise and Craeg but in typical Ward fashion, she weaves other story lines into the narrative while setting up future arcs. This novel is just as much about Butch and Marissa navigating some turbulent relationship waters. What works is how these two plots eventually meet up as circumstances turn violent.
I admit that I was a bit surprised by the big reveal. That being said, I don't think it held up to my expectations. I felt as if the ending wrapped up a bit too quickly and was too convenient. I'm used to Ward torturing her characters a bit more before the happily ever after. I expect that there is more in store for Paradise and Craeg, given the anger her feels for her family's deaths. Other characters introduced were intriguing so I'm pretty excited to get Axe's book (
Blood Vow
12/16) next.
Final rating: 4 out of 5 stars
Follow the author on Twitter: @JRWard1
#BDB #BDLegacy #BloodKiss #vampires #romance #erotic #mystery #books #JRWard