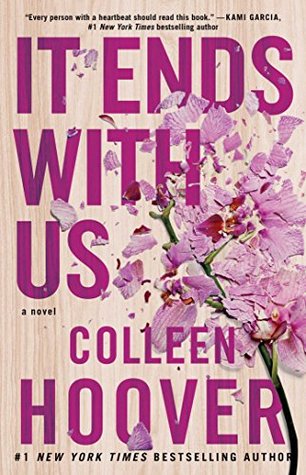 Growing up in a small town in Maine, Lily Bloom's life wasn't always easy. Her father might have been the mayor, but he also spent years emotionally and physically abusing her mother. Lily great up with terror and hate in her heart. One bright spot yet filled with melancholy was Atlas, a homeless boy from school with whom she grows particularly close. And yet, even their relationship ends with heartbreak but Lily just can't quite forget him.
Skip forward nine years, Lily lives in Boston and works in marketing but it isn't her passion. One night following the funeral of her father, she meet Ryle Kincaid, a dashing neurosurgeon. Each hurting, they share several naked truths but part ways. However, fate intervenes, bringing the two together again. Lily thinks that life just might be too good to be true...and it is.
Much happens in a short period of time. Lily begins a relationship with Ryle, only to have Atlas pop back into her life. She's ready to move on; however, jealousy and other behaviors begin to paint a dangerous picture of Ryle. Soon Lily becomes the type of woman she swore never to be--lying about abuse and convincing herself to stay because each time Ryle swears it will never happen again.
This is the type of book that left me with conflicting emotions. I spent most of the book shouting aloud and furious with the characters. In its favor, that means that I was highly engaged with with lives of these characters. On the flip side, Ryle is a douche. I hate him with a fiery passion but he has a few redeeming moments but needs to seriously own up to his issues
AND
continue intensive therapy.
Lily's characterization is very realistic of someone who has grown up in an abusive household, promising that she won't follow the same path, only to find herself in the same situation. During these moments of indecision I was very frustrated. However, there is redemption and an emotional maturity once she has the "it ends with us" epiphany. I liked the ending and that Lily and Atlas seemed to finally come full circle in each of their lives so that they can really have a shot at forever.
Overall,
It Ends With Us
isn't my favorite Hoover novel to date. That award still goes to
Hopeless
; however, this is still an engaging new adult 'romance' with an important message.
Final rating:
4 out of 5 stars
Follow the author on Twitter: @colleenhoover
#ItEndsWithUs #allthefeels #fightdomesticabuse