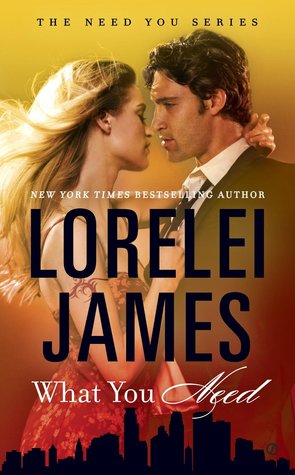 Thanks to Netgalley for an ARC in exchange for a review!
Expected publication:
January 5, 2016
What You Need
is the first in a steamy new romance series by bestselling author Lorelei James. The Lund's are the next new family readers will fall in love with following James' immensely popular
Rough Riders
series and the exploits of the McKay cowboys.
Brady Lund is the CFO of Lund Industries. He's smart, devastatingly handsome and a woeful workaholic. Brady notices co-worker Lennox Greene but can't bring himself to make a move until a staged 'get a life' intervention by his brothers brings them face to face at local bar. Gone is the conservative blonde from the office. In her place is the rebellious, sexy and flirty Lennox that she tries hard to keep under wraps in an effort to be professional and hide from her troubled youth.
Unable to fight their attraction, Brady and Lennox delve into a relationship built not only on the lure of passion but also a deeper understanding of what is lacking in each of their lives. Despite insecurities and a few ups and downs, they learn that what they really need is each other.
I'm a huge Lorelei James fan and she can pretty much do no wrong in my book. I enjoyed this book quite a bit. It is a departure from the raunchy
Rough Rider
cowboys and the even darker and erotic
Mastered
series. While still super sexy, there is more emphasis on the relationship outside of the bedroom. I look forward to more books featuring the other Lund family members.
Recommended for Lorelei James fans and readers who've enjoyed books by Christina Lauren, the
Bourbon Kings
by J.R. Ward and other steamy, contemporary romances in the workplace setting.
Follow the author on Twitter: @loreleijames
Final rating: 4 out of 5 stars
#loreleijames #whatyouneed #romance #netgalley #bookreview