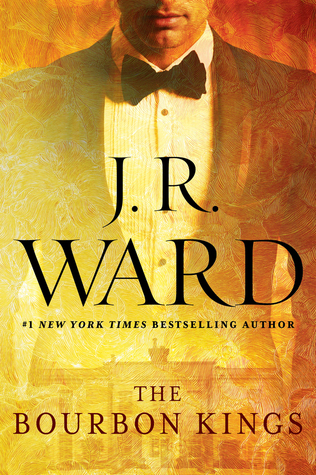 The Bourbon Kings
is the first in J.R. Ward's new southern family drama. The Bradford family is the head of a Kentucky bourbon dynasty; however, life behind the scenes is not as glamorous as they'd like the rest of the world to believe. The patriarchal father is an abusive, cheating tyrant whereas the mother, the real money behind the operation is a heavily medicated shut-in.
Four adult children have managed to survive but just barely, each arguably more screwed up than the next. Eldest, Edward is physically and emotional scared from years of abuse and a brutal kidnapping and has sequestered himself away from the family. Lane has fled to NYC, Max is mentioned but notably off grid and Gin, the baby sister is in love with an unattainable man, has secrets that will shatter him and makes terrible life choices since she's ill prepared to fend for herself.
Ward uses this novel to build an arc into a much more complicated exploration of the family and the web of deceit that threatens to bring it all crumbling down. The main relationship explored is that of Lane and Lizzie, the estate's gardener. These two have a past which was ruined by Lane's hasty and loveless marriage in lieu of an accidental pregnancy which never saw completion. Lane wants to prove that he's matured and is a changed man. Lizzie is hesitant that he'll break her heart again.
I liked this book and overall don't have many complaints. I've read enough Ward that the structure and writing are true to form. She's building the details and intrigue to delve deeper within each story. Lane and Lizzie's story felt a bit unfinished; however, I think she'll continue to revisit them as she focuses on the other siblings too. I'm really fascinated by the fractured soul that is Edward. He has some BDB traits and we'll see if he can work through the physical and emotional pain to sort out his life.
Gin just makes me want to scream and shake her. She's got a lot of growing to do before I can tolerate her. And where the heck is Max???
Final rating: 4 out of 5 stars
#bourbonkings #jrward #kentucky #family #issues #dysfunctional