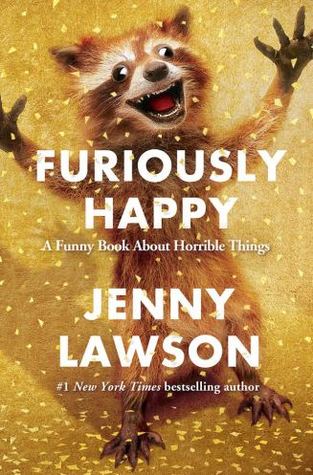 Lawson's
Let's Pretend This Never Happened
is probably my favorite nonfiction audiobook listen of all time. I just couldn't wait for the release of
Furiously Happy
. It certainly lived up to its subtitle--
A Funny Book About Horrible Things
. Whereas her first book focused on family,
Furiously Happy
takes a humorous approach
as Lawson explores her lifelong battle with mental illness. A hysterical, ridiculous book about crippling depression and anxiety? And yet, it all works. The discussions are poignant but presented with Lawson's characteristic flare.
I can't stress enough Lawson's amazing narration to her own books. Her delivery is perfect and will leave readers in hysterics. I know other drivers thought I was in the middle some sort of episode as they passed me on the road. Overall, I didn't love this book quite as much as Lawson's debut; however, it is still an amazingly bizzare and funny take on how to process and discuss coping with mental illness and still live a fruitful and productive life.
Final rating: 4 out of 5 stars
Follow the author on Twitter: @thebloggess or visit her site: www.thebloggess.com
#furiously happy #jennylawson #memoir #humor #mentalillness #audiobook