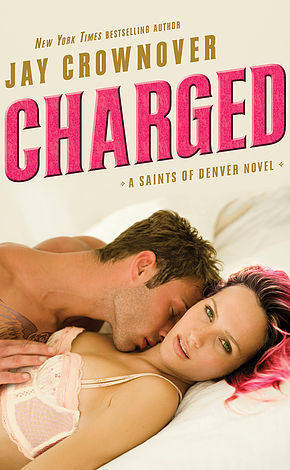 Charged
is the second book in Crownover's
Saints of Denver
series.
Avett Walker is known for her poor decision making. When listening to her latest abusive boyfriend lands her in jail facing some serious charges, she'll need all the help she can get to turn her life around. Enter Quaid Jackson, the high powered, gorgeous and sexy as hell attorney retained to defend Avett.
The last thing she wants to do is listen to Quaid's no-nonsense routine, especially when he holds her future in his hands. Likewise, Avett, with Technicolor pink hair and an equally feisty demeanor, is impulsive and unlike any client Quaid has ever had. The more time they spend with each other, the more the attraction builds into a charged frenzy with more than a few rocky stops and starts on the way to forever.
I LOVED THIS BOOK!
I devoured it in nearly one sitting as I do most of Crownover's titles. I've been waiting what seems like forever for Avett and her 'Legal Eagle' to get it on and have their own story. Crownover didn't disappoint. The great storytelling formula first established with
Rule
and her other novels is back. She lays the groundwork with interesting and compelling characters but also includes well developed plots, good dialogue and super sexy times.
"The trick is staying found, I think. It's easy to get lost when your life is constantly in a state of disarray. The right path gets obscured as quickly as you make it."
He put a hand on my shoulder and told me solemnly, "That's why you find something or someone that guides you, someone that won't lose you, and someone that you don't mind getting lost with when that inevitably happens."
While Avett and Quaid aren't my favorite couple, they rank up there pretty high. Like Crownover's other couples, these two balance each others weaknesses and provide unique support not found through any other person. I wish there had been more with Quaid and his family but maybe that's an excuse for an additional book or short story (hint, hint! - Jay!!!). I can't wait to learn more about Wheeler and for Church and Dixie to finally get a book too.
Final rating: 5 out of 5 stars
Follow the author on Twitter: @JayCrownover
#charged #legaleagle #jaycrownover #SoD #romance #sexy #books